Moderator: JR Moderator
Site Admin

Posts: 6943
Joined: Tuesday, 31 August 2004, 12:06 PM
Logged in via: Android
Radio: General Lee
Antenna: Monkey Made MM6
Name: James W
Cell Phone: (208) 845-0004
Location: Bozo, Idaho
Referrals: 707
Contact: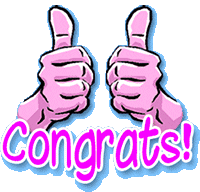 Congratulations to bombero on being promoted to admin on the forum.
Admin - CBRT Complaints Department
We encourage all users to
support our sponsors
. We believe our sponsors are the best out there. Be sure to tell them you saw their name on The CB Radio Talk Forum. Please use our
contact us
link in the menu if you are ether having registration issues, or need help with logging in. Otherwise please utilize our "
Talk to Admin
" forum to address your other concerns.
Support our fine sponsors!
---
---
---
---
Donor

Posts: 428
Joined: Friday, 11 September 2015, 12:13 PM
Radio: 980SSB/YaesuFT3200DR
Antenna: Sirio5000/Nagoya77B
Name: Guy
Cell Phone: 504-231-8254
Location: New Orleans,LA
CONGRATS BOMB!!!! I knew you'd make it bid someday!!!!!
Semper Fi! HML-767 NOMADS 1985-1990/Mobile: Uniden 980 SSB/Sirio Performer 5000/Hand Held Uniden HH401/K40 mag mount/Radio Shack TRC-482/Cobra HG Power mic/SRA-198 mic
---
Mod Duck

Posts: 617
Joined: Sunday, 23 October 2016, 21:45 PM
Radio: optima ,cobra 148ex
Antenna: patriot,brownig
Name: Charles Reney
Cell Phone: 760-672-1257
congrats Bombero
Keep smiling ...It makes people wonder what your up too !

American eagle member : AE1577
TWRC Member : WR2950
---
Donor

Posts: 307
Joined: Thursday, 01 November 2012, 8:56 AM
Radio: RCI-2995DX
Antenna: Imax 2000
Name: Scott Smith
Location: Hudson CO.
Referrals: 3
Congrad's Mr. Bomb.
My Skype name is ( slingslingbinks )
---
Donor

Posts: 441
Joined: Sunday, 11 September 2016, 1:00 AM
Radio: Anytone AT 6666
Antenna: A99/Wire dipole
Name: Cletus
Location: Western AK
Congrats to the new "red guy". Lol.
\m/ >.< \m/
Anytone AT 6666
Galaxy DX 959
Galaxy DX 2517
Cobra 148 GTL
1/2 wave Dipole
Solarcon A99
TWRC Member: WR223
---
---
Site Admin

Posts: 5738
Joined: Saturday, 07 March 2009, 22:35 PM
Radio: RCI 2950 Mirage
Antenna: 2ft Wire hanger
Cell Phone: 1-800-MUD-DUCK
Location: In your radio
Referrals: 1
---
Super Mud-Duck

Posts: 9
Joined: Thursday, 12 January 2017, 9:34 AM
Radio: Cobra 2000 GTL
Antenna: Sirio Gain Master
Name: Mark
Cell Phone: 6312555180
Congratulations....I'm a new guy here.
---
---